It's Not Bologna… It's Mrs. Roney
7th-grade science teacher on the Voyager team, Mrs. Roney, won the Auburn Washburn District Secondary Teacher of the Year last year before Spring Break. She was nominated by her fellow teachers, administrators, and coaches. Because she won this award, she became a candidate for Teacher of the Year for Region 2, which is in northeast Kansas. On Sunday, March 26th, she and other candidates from around the region were honored at a banquet for their hard work and contributions in and out of the classroom. Mrs. Roney was surrounded by her family and coworkers who came to help support her on this special day.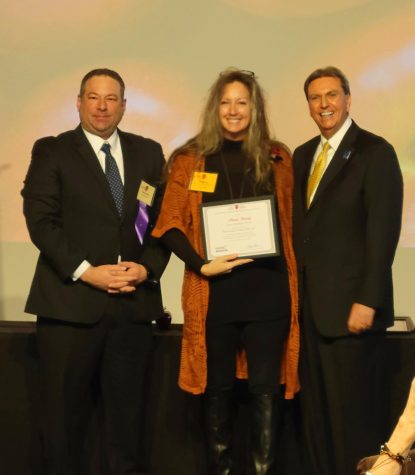 Despite the regional award going to someone else, Roney was thrilled to be honored. "I was shocked, surprised, and very humbled," said Roney. Roney said there is more to this award than just being a good teacher. "It's about the lessons they teach," she said. "The relationships they build, the time, effort and work they put into each day for their students and colleagues." Mrs. McDonald, the 7th grade Language Arts teacher on the Voyager team, gives examples of why Mrs. Roney deserved this award. "She has the ability to know when students need her whether they ask or not. She not only teaches Science in an engaging way, she makes sure to have food in her classroom for kids who are hungry, and takes care of their social-emotional needs as well." Mrs. McDonald also was a colleague who nominated Mrs. Roney for this award. "She is a Teacher of the Year because she loves her students, and they KNOW it. Every day." McDonald said.
We from the Falcon Press congratulate Mrs. Roney for winning Secondary Teacher of the Year and being nominated for Teacher of the Year. As the authors of this news story, we all had Mrs. Roney as a teacher and we can confirm how much of an amazing teacher she was. Every day she made the class as interactive as possible, also letting us play with all of her animals. Well..except the fish.