Year-long School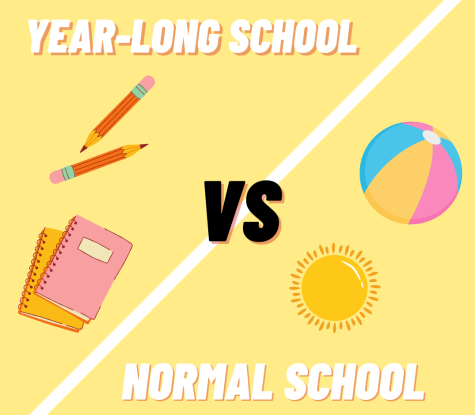 With only a few weeks of school left, summer is on everybody's minds, but for some schools, there is no summer break. Year-long school is when you swap out summer vacation for a series of shorter breaks. For example, you would go to school like normal, but instead of having your three traditional breaks (winter break, spring break, and summer break), you would have multiple short breaks that are longer than weekends but shorter than a normal break.
Students at Washburn Rural Middle School were surveyed and interviewed about yearlong school. 84.9% of them said they would rather keep school as normal and only 15% of students said they would rather have yearlong school.
7th grader Vivienne Ndung'u says that she would rather keep school the way it is because year-long school might be hard on students' mental health.
"I think that we need summer break. I know that many people feel the way I do and I think that it's just tiring trying to make it through the school year. If we had school year-long it would be so hard on me and other students' mental health."
8th grader Sapphira Siwila says she would rather have normal school because she likes having a long summer break and wouldn't be able to enjoy things like swimming if we had school in the summer.
However, 8th grader Gabe Taylor disagrees. He says he would prefer year-long school. "I think year-long school would be better so you don't lose your knowledge over the summer."
Yearlong school is not even a consideration by the district, but how do you think other students would respond if the district switched to year-long school?