On the Frontier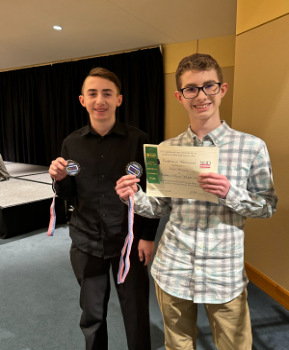 On Saturday, February, 25th many WRMS students participated in the annual History Day competition at Washburn University. Throughout the year, 7th and 8th grade WRMS students have been working persistently on these projects which center on the theme of Frontiers in History. As they have worked on these projects, Mrs. Dowell, one of the gifted facilitators at WRMS, has been helping them write essays, build display boards, create websites, and make video documentaries. 
History Day went very well for 8th grader Levi Hoskinson and his partner Kael Harman.  "We placed second at Regionals and have had the opportunity to take judges' comments and apply them to the documentary," Hoskinson said. Towards the end of April, Levi and Kael will be competing for state and hopefully competing in nationals if they do well at state. Hoskinson had some favorite parts of History Day. "My favorite part of history day is looking back at the project after it's been completed and seeing how far our project has come. How it went from a vision (in our case) to a complete documentary," Hoskinson said.
After Hoskinson and Harman completed their documentary "No Ordinary Joe: Jumping into the Frontier of Space," they ended up with second in the group documentary. Mrs. Dowell had said that there was tough competition between many different schools and even competing against some of their classmates. As Hoskinson and Harman worked endlessly throughout the year, they are hoping to place at state to head to nationals.