A Dreaded Farewell
Retiring and Leaving Teachers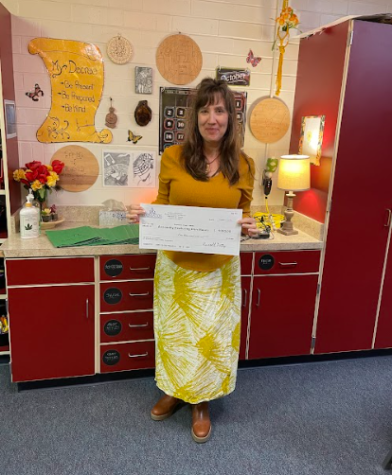 We have a few teachers that are leaving WRMS after this year. Stephanie Vopat is one of them. She is the SFA teacher on the Champions team. She has been teaching for 28 years. Before Mrs. Vopat came to WRMS, she was at Chase Middle School teaching kids with special needs. 
Mrs. Vopat loves Washburn Rural Middle School. "To me, this is huge, It's a beautiful facility. There's just so much here," said Vopat.  Michael Dillon, the math teacher on the Champions team, will miss Mrs. Vopat. "I will always remember her story-telling ability and her sense of humor," said Dillon. Stacy Gonzalez, the history teacher on the Champions team, has been on the Champions team with her for 7 years. "She is an integral part of our team and there is no one like her," said Gonzalez. Mrs. Gonzalez and Mrs. Vopat are really good friends and have worked together since the start of the school year from 2016-2017.
Vopat has a lot of fun memories. One of her favorites was when a kid in her class took a pair of scissors and cut his hair. When Mrs. Vopat asked what he was doing, he said he was cutting the demons out. Another good story was when she was teaching the male reproductive system as a part of the reproductive unit. Students were supposed to be getting out their individual copies of a diagram of the male reproductive system, and one student announced to the entire class that, instead of not being able to find his paper, he was not able to find his…body part. After Mrs. Vopat leaves, she plans on getting licenses in three areas: Postpartum Doula, Yoga, and Neuro-Graphic Art Therapy. The Champions team loves Mrs. Vopat and they are sad to see her go.