Starting Line Up
The WRMS sports season is in full swing. At WRMS, there were multiple openings on our fall coach sporting staff due to vacancies. There are many new football coaches and a new Volleyball B team coach. The football coaches are Coach McDaniel, Coach Horton, Coach Vander Linden, and the new volleyball coach is Coach Henley.
Mr. Chesmore, who most students know as the 7th grade principal, is also the athletic director. This means he's in charge of all sports scheduling, transportation, and coaches. Chesmore believes coaches are extremely important. Chesmore looks for certain qualities in the coaches he hires. "We have very successful programs with coaches that not only build relationships but are also very knowledgeable about their sport." Coach Henley fits this mold because Chesmore hired her to be the new Volleyball B Team coach. "Well because I love the sport and it's always been a part of my life and I wanted to help other people love the sport." 
There are several new football coaches as well. Coach Horton, the new B team Offensive and Defensive Coordinator said the jump to WRMS was an adjustment. "I coached at a small school last year with 35 kids on our team, and that's 7th and 8th graders." Horton has enjoyed the challenge of having more kids to coach. "I enjoy getting back to teaching the fundamentals to kids and hopefully getting them ready not just to succeed at Middle School football but to have the skills and techniques that will help us win at the high school level." 
It is coach Vander Linden's first year coaching 8th grade (he coached 7th grade last year) and he loves coaching. "The opportunity to coach has been a huge blessing. And my dad was always big into coaching, and he definitely passed down the love of coaching to me." Also, Coach Vander Linden loves the coaching environment of  WRMS. "The other coaches have been very welcoming and always pushing me to be a better coach. It's been nice to have these types of coaches helping me, especially when this is only my second year." He said mostly, he has enjoyed the football players the most and how hard they work.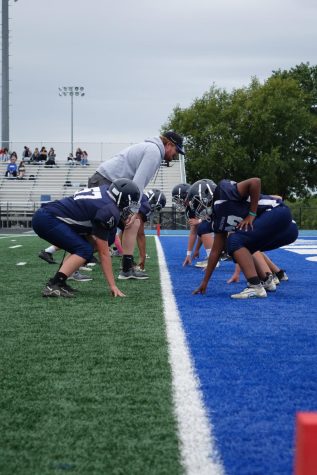 Coach McDaniel is the new 8th grade head coach. And he loves a lot of things about coaching at WRMS. "I love that we are one of the bigger middle schools in the state of Kansas, and the participation that we get from the student body, also the percentage of students that come out to play sports, and the enthusiasm that they bring, and the support that the administration has, and that the parents have." He has faced many new challenges with this being his first year being a head coach because so much happens behind the scenes. "From writing practice plans, to organizing transportation schedules, and instilling character and integrity in these young men, and that they are making the right choices throughout the day to support what they do on the field." He also has enjoyed being a head coach because he gets to face new challenges. "I love learning, I love growing, and I love tackling new projects. But most of all the thing that has driven me the most is seeing these young men playing together."