Farewell, Mr. Bell
Bell is the Library Media Specialist at WRMS. He works with Ms. Clear and Ms. Muckenthaler, library clerks at the library. If you need to find a book or check the database, he's got you! He is leaving WRMS after this school year. He will be transferring to the high school, where he will be an English Language teacher.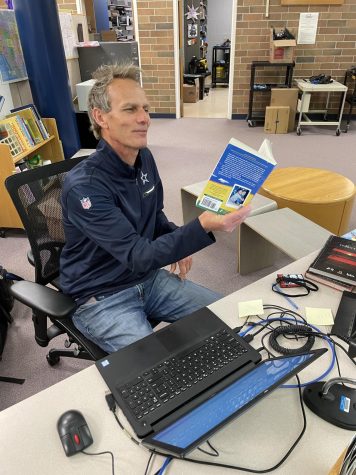 Bell's first professional job was a librarian at the high school. During Bell's experience at the middle school, he had many new memories, "My best memories from being a librarian here will be those times I was able to help students and staff find a book that they enjoyed or a resource that was helpful to them," said Bell. Bell's favorite project he worked on was reorganizing the fiction section by genre with Ms. Clear, Ms. Muckenthaler, "It was a big project, but it has been rewarding seeing students searching in specific sections for the types of books they are interested in reading," said Bell.
Ms. Muckenthaler, a library clerk, has been working with Bell since April of 2012, and has been working here for 11 years. Muckenthaler had some favorite memories with her time working at the library with Bell. Muckenthaler said, "Some of my favorite memories are probably listening to him give presentations to students (particularly the one about the Holocaust-especially when he talks about his experiences visiting some of the places) and talking with him about projects we are working on," Muckenthaler said, "I wish him well and congratulations on his new position but I'm going to miss seeing him here at the middle school every day," Muckenthaler said.
Mr. Dial, the assistant principal for 8th grade, has worked with Bell for about 10 years, and has been working with Bell since Dial taught in 8th grade for the Champions and WAVE team. One year, Mr. Bell let out his competitive side when they were playing a students vs. staff basketball game. "Mr Bell was not happy with the way the staff was playing and allowing the students to stay close. Although it was for fun, he wants to win when it comes to sports," said Dial. Bell is the soccer coach at WRHS (boys and girls) and he plans to continue the following year. Dial and Bell also share the same favorite football team, "I've enjoyed talking to him in the hallways about the Dallas Cowboys, so I am going to miss having a supporter of the Cowboys in the building," said Dial.
Thanks to Mr. Bell for working here for so many years and taking initiative to improve the library and school environment! You can look forward to seeing him around at the high school in the following school years!