Feel the Music!!!
Here's an inside look at the music department at WRMS.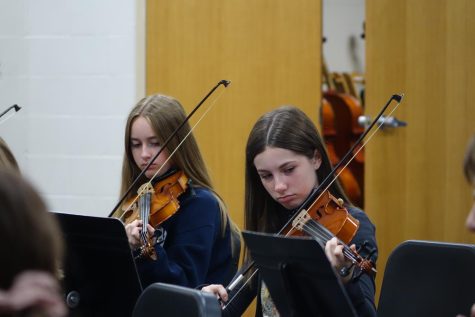 Orchestra is a beautiful symphony. Each grade has so far had 1 concert that includes songs, such as "Rosin Eating Zombies From Outer Space", "Abandoned Funhouse", and "Regal Procession". Enzo Cabrilo, an 8th grader who plays the bass said, "I thought the cello sounded good, in contrast to the violin and viola and I didn't want to play cello because I didn't want to sit." Some schools don't provide the choice of orchestra, when told, 8th grader Maddi Bahr said, "For real?! That's dumb." Orchestra is very small and could always use more people.
Choir sometimes seems easy, but it still takes lots of practice. The 7th graders get to go on a tour and play at 2 of the elementary schools in our district. Any 7th grader can join the choir, but for 8th grade, you can only do it for a semester. If you do want to do choir for a full year then you will have to get Mr. Lambotte's approval. 8th grader Kellen Baird, when asked why he joined said, "I chose choir because I did it last year and it was really fun. And I get to hang out with my friends." When asked about his favorite thing about choir 7th grader Ajay Reeb said, "The thing I like about choir is that I don't have to forget an instrument." Choir is not always easy, but it would be nice if you would like to join next year.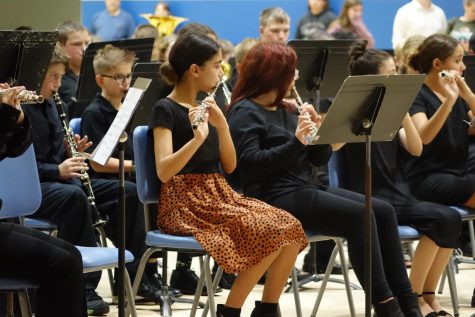 The band has participated in many different things such as; marching in the Auburn fair parade, playing at the last 8th-grade home game, playing at the first high school football game, and playing in the homecoming parade. Braylon Doleman, an 8th grader who plays the trumpet, said, "I chose band because it's boring to not play an instrument." There are many sections in the band such as the brass, woodwinds, and percussion. Conner Davies, a 7th grader, when asked about his favorite thing about band said, "You get to perform for others and get to play new songs." Catch the band's 8th-grade concert in the gym on December, 13.