We Are Family! Pt 2
WRMS has a lot of families in the school! There are the Reihms: Logan, an 8th grader on the H.E.AT team, Landon who is a 7th grader on the Eclipse team, and their mom, Kathy Reihm, a para educator. There is Audrey Gathers, an 8th grader on the Champions team and her mom Rachel Weaver, who works as the school's security secretary. There are the Bruces. Ella Bruce, an 8th grader on the W.A.V.E team and her mom Mrs. Bruce, who works as an 8th grade math teacher for the S.W.A.T team. As well as Miles Cavitte, an 8th grader on the S.W.A.T team and his grandma, Mrs. McDowell who works as the head secretary of the office. And Dee Ann Hobelman, a FACS teacher, and her daughter Christine Hobelman, a permanent substitute in the building.
                                        Miles and Mrs. McDowell  
                                          By: Janna Marquis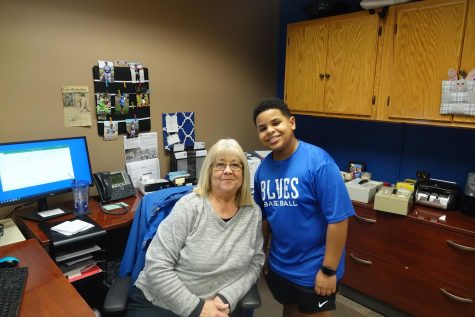 Cavitte says that he talks to his grandma a lot during the day. "I go to her office before lunch sometimes, and after lunch everyday when they go outside." Cavitte enjoys having his grandma in the building with him. "When I'm hungry she always has snacks, or if I don't feel well she usually has Ibuprofen and medicine and stuff so that's nice."
Although Cavitte says there are many benefits to having his grandma in the building with him, there are some downsides as well. "If you get in trouble she will find out first and that wasn't very good when that happened." He says that a benefit to having his grandma at school with him is he can communicate with his parents easily through her throughout the day. 
Mrs. McDowell enjoys having Miles in the building with her. "I talk to him about once a day. I love it!" Although she loves having her grandson in the building, she likes to embarrass him every once in a while. "Last year over announcements I wished him a happy birthday to the whole school and he got embarrassed."
Reihms
By: Kayla Mckinsey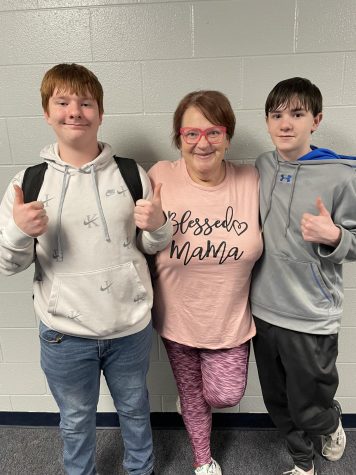 Kathy Reihm, a para educator for the 7th grade All Stars team, and her two kids Logan and Landon go WRMS. Logan is an 8th grade student on the HEAT team, and Landon is a 7th grade student on the Eclipse team.
Logan says he has one benefit of having his mom work at his school. "Sometimes she gives me food." Landon says he has a favorite part of having his mom work here, "If I need to ask her something in the middle of the day I can find her." 
Kathy says she might see her kids during passing time, "I might see them during passing time just to give them a high five or a punch in the arm as I go past. And of course we meet by the door and leave together. I hand off the keys to my oldest (he just started driving)." 
Hobelmans 
By: Shiah Simpson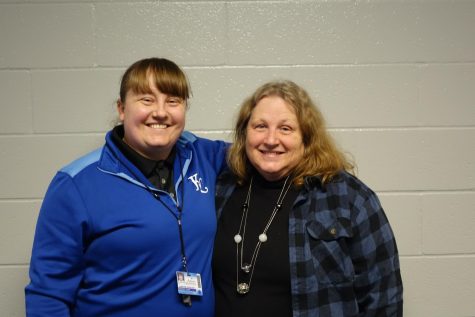 A mother daughter duo at WRMS is Mrs. Hobleman and her daughter Christine Hobelman. Mrs. Hobelman is a FACS teacher for both 7th and 8th grade, teaching money management and cooking. Christine is a permanent substitute teacher in the building, helping teachers out when they need her.
Both Dee Ann Hobelman and Christine Hobelman have some ups and downs about having their family in the building. "My favorite thing about having family in the building is having my daughter actually experience what it is like to do my job," said Dee. "It's better than Take Your Child to Work Day, because she actually gets to experience some of the ups and downs of teaching." While Christine does love being with her mom, she said there is a downside. "She asks me to do her towels, or get her copies off the printer," Christine said. They have great memories together. Christine said, "My mom is always up for an adventure. If I get an idea of something I want to try or go and experience I know she is always on board, even if that means Zip Lining in Las Vegas." 
The experience has been so good for Christine that she has decided to take up teaching as a career. 
Audrey Gathers and Rachel Weaver
By Anah St. John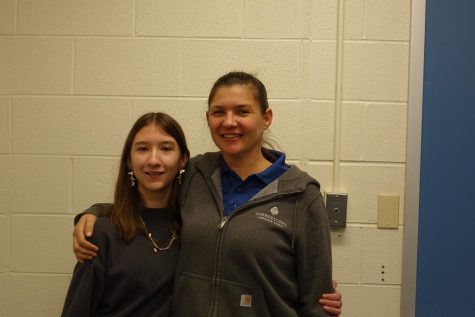 Our Security Secretary, Rachel Weaver, has a daughter. Her name is Audrey Gathers. She is an 8th grade student on the Champions team. 
Weaver enjoys getting to see her daughter throughout the day. "I feel like I get a little glimpse of her day that most parents don't get to see with their own children–who she sits with at lunch, how she interacts with peers, just little things that most people don't get to see," said Weaver. They see each other often throughout the day."I usually see Audrey every morning.  Sometimes we see each other at lunch depending on which lunch I work." Gathers likes to have her mom in the building with her. She says there are some advantages. "I think it's easier, I guess, so I can go down there if I forgot something," said Gathers.
Bruces 
By Shiah Simpson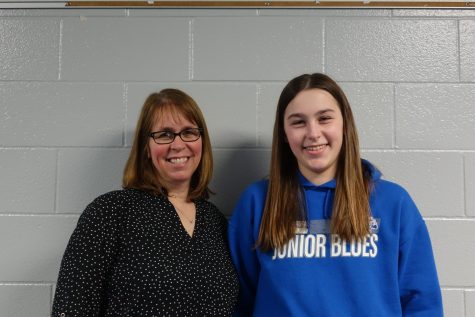 A family at WRMS is Kristine Bruce and her daughter Ella Bruce. Kristine Bruce is the math teacher on the 8th grade SWAT team. Ella Bruce is an 8th grader on the WAVE Team. There are some benefits to having your family in the building, "This year our lunches are at the same time, so she eats with me in my room.  We have had lots of good talks over lunch.  It is a great time for both of us to decompress.  I will miss this next year!" said Kristine. Having family in the building comes with some ups and downs. "My favorite thing is that I can go in her room if I need something and least favorite thing is that she pays attention to everything I do," said Ella. Ella was with her mom at Auburn Elementary school from Kindergarten to 4th grade when Kristine taught there. "It is very convenient because our schedules are the same.  Ella doesn't have to ride the bus, and if she or I have an appointment, I don't have to make an extra stop to pick her up." said Kristine. With Ella always being with her mom all the time at school and keeping her company, Kristine will miss Ella when she leaves for High School next year. 
Did you miss our first story on families at WRMS? Check it out HERE!