Staying on Track
A snapshot of track and field
Track season has begun. 7th and 8th-grade track participants at WRMS practice after school to prepare for their meets. They had their first meet on Monday, April 3rd. Two of their meets will be here, but they also travel to other schools. They participate in track and field to have fun and stay active during the track season. Track includes throwing, jumping, and running events. Throwing consists of shot put and discus. Jumping events have long jump, high jump, and triple jump. Running events are races of different lengths around the track including hurdles and relays.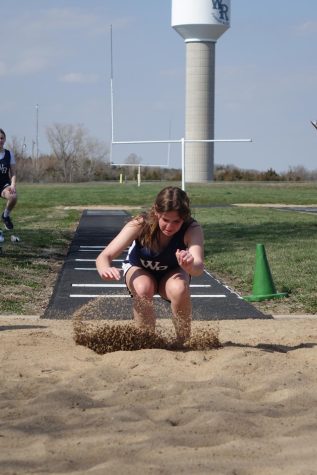 Track is not just for kids who like to run. Coach Heinritz, the high jump and 8th-grade girls head coach said, "There are so many events and levels in track, and it gives everyone a chance to feel success. Kids of every shape and size can find an event in track that they can compete in and improve in." The coaches have a huge impact on the kids. They want all of the students to be successful and enjoy themselves. Coach Roney, the sprints and 7th-grade girls head coach said her favorite part of coaching track is, "watching kids make and meet their goals they have for themselves." Track also teaches kids teamwork and leadership skills. Kate Muir, a leader on the 8th-grade girls team said, "It means to try to help out and be encouraging to the other people on the team." Everyone in track wants to win and feel good about themselves. Christian Hartman-Babb, an 8th-grade boy on the track team said, "I wanna beat everyone and that makes me do my best."
The track team has many meets throughout the season. You can support our school by going to the home meets. The next home meet is on May 1st.